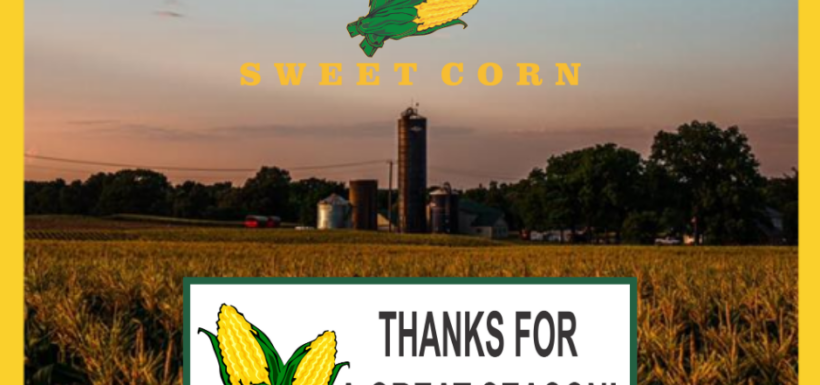 Thanks for another 'corn-tastic' season! Our 2021 harvest is now complete and the last Snyder Dozens will soon be consumed!
We wanted to take this opportunity to express our overwhelming appreciation to all of you! We LOVE what we do and who we do it for! Thanks for all the cobs you purchased and for inviting us onto your table this season…we hope you've enjoyed your Snyders Corn as much as we did!
To all of our Corny Crew, our 'Summer Snyders'….your efforts and representation of our family farm was amazing and we could not have done it without each and every one of you!!! Your dedication through a very HOT corn season was unbelievable! You were a pleasure to work alongside and we wish you much success in the coming year ahead!!
To our children…our favourite Snyders 1/2 Dozen…each of you helped us in such immeasurable ways whether here or from abroad…through physical labour or emotional support! Thank you for your kind words and helpful hands…especially when we were up to our ears in corn!!
Thank you to my mom, 'Nana Christine', for faithfully delivering all the corn to the stand…you are loved and appreciated by us all! This truly is a family farm!
Thank you to my Corn King, Tom, who keeps me sane (sort of) I am so thankful to have had you by my side working together and talking me through the pile of corn that loomed over us each day! There's truly no one else I'd rather do this life alongside!
Finally, we are so very thankful to our Lord for His provision and safe-keeping! We have an increased appreciation for all He does and His interest in every detail of our lives. He makes the seeds sprout and grow and gives us the strength, energy and wear-with-all to do what we do! In abundant years and challenging years we thank Him!From all of us to all of you…have an AWESOME year!