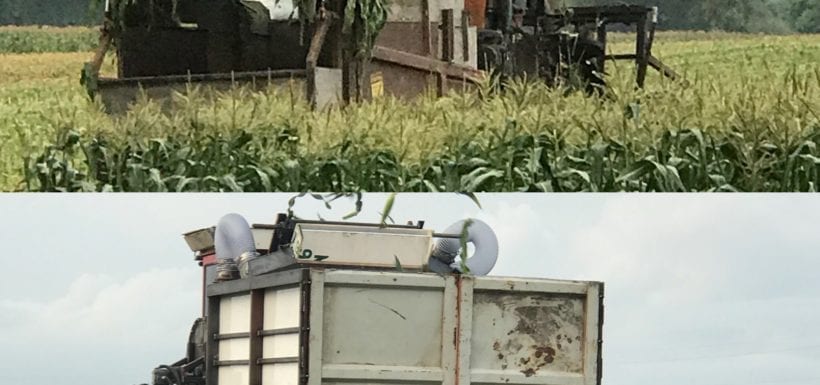 The Journey of a Picker-A Tale of Two Berthas!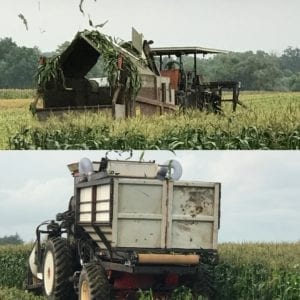 In 1981 Charlie Snyder and his original 'Corny Crew' began this crazy journey with a desire to diversify the family farm. They began by growing a few acres of sweet corn which were hand picked and packed and shipped off to the Toronto market. It took them most of the day to pack that first load of 37 crates!! 
It sure didn't take long before the need for automation arose and the purchase of a Farmall 400 with a sweet corn picker mounted  on it was made. That was short lived however, and the next season saw the addition of a brand new single row pull type FMC sweet corn harvester make its way onto our farm. 
In 1987, I joined the crew as a young, 14 year old gal excited for my first summer job! I fell in love with every aspect of the sweet corn operation, including the farmers son, Tom, as together we handpicked the 'ends of the rows' and 'pick throughs' so the tractor didn't run over the corn as it made its way through the field. 
Besides all the required handpicking, the FMC also had another serious flaw where it sometimes cut too close to the cob and bruised the butts! We used that picker as it was designed until 1993 when Charlie and Tom built a puller style head that would do far less damage to the cobs and actually appear as if it was handpicked. It was a huge project that required learning hydraulics, welding techniques and wiring, as well as engineering! But there was still a fair amount of handpicking to open up the field and clear the ends to allow for turning. 
In the late 90's we purchased a 20 year old, new to us, self propelled, 2 row FMC sweet corn harvester but did not yet put it into use as it needed to be made into a 'puller'. In 2000, the guys began the reconstruction process and the 2 row puller head was added to the FMC self propelled machine…and Old Bertha was born! Although very narrow and slightly top heavy, she was ready to pick and our crew was happy and ready to quit handpicking!!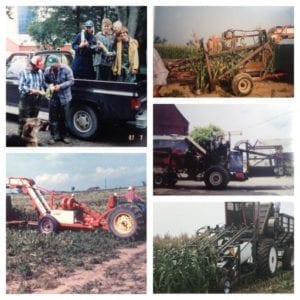 Over the years, she has served us well. But as a now aging machine, she has given us a few scares and many headaches as she picked her way through the past 18 seasons! At the end of 2017, we knew it was time for her retirement and that a replacement must be found sooner than later! 
Tom and I began looking into purchasing one of the harvesters already available on the market. However, the price was more than we paid for our farm and with the investment we have recently made into the sub surface drip irrigation under each 30" row, we had to pay special attention to wheel base. Our agronomist, Aaron McQueen, made it very clear that we shall not drive on a row and that the pullers on the market were just too fat and heavy! I breathed a sigh of relief for a moment but quickly realized that meant that manufacturing a custom machine was our only option! Could that possibly be done in 9 very short months?!?!?
Back in December of '17 we pulled Old Bertha into the shop for measuring and pictures and then out she went so that our 8920 White combine could come in for her complete makeover! 
Our sons began dismantling and Tom began designing and ordering and the next thing we knew there was an empty chassis with a cab sitting in our shop and a whole lot of parts on order! A clean slate as they say! Soon Eddy, our very talented fabricating son, had the base framework in place for the new engine to be mounted. Next it was time for the 3 row puller head to be built…quite a task as there truly is none other like it on the market. They are all 1 row, 2 rows or 4 rows and we wanted to increase our picking capacity while still matching our planter rows. We soon discovered there is a reason no 3 row puller exists as the logistics of picking 3 rows at a time proved to be a definite challenge, but not impossible for my talented guys!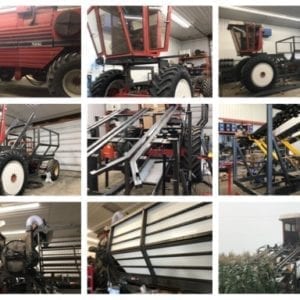 A tonne of hydraulics and belting, as well as a massive amount of wiring and of course more welding were still to be done as our 2018 Sweet Corn season was looming ahead of us! We were quickly running out of SLEEPS as the Countdown to Corn was on! Helpers came from everywhere to aid us in the build but alas on the eve of corn Old Bertha had to be prepped for the morning shift. 
As our season came on fast and furious, surprisingly the old girl gave us her very best while the guys continued to work on her replacement whenever time allowed. Apparently and thankfully retirement doesn't come easy for old machinery or their farmers? for which we are so thankful because we could not have done this season without Old Bertha and her main operator Charlie…the original King of the Corn!
Now that the corn chaos has eased and the menfolk have been able to dedicate their time and talents to the project, Big Bertha is finally ready to finish off the season! Just in time too, as today we begin harvest on our hills. Her wide wheel base and low centre of gravity will allow me to breathe easier as Tom and her begin picking the final field of corn!
So here's how she works…Bertha travels down the field grabbing a row of stalks in each of her three gathering belts and then cutting the base of the stalk. As the stalk travels up the belts, two rollers come together and when the cob hits them it is gently rolled off the stalk onto the awaiting conveyor. The corn then travels up to the next conveyor and the stalk drops off back into the field. Once the cobs reach the top of the conveyor, they are deposited into the massive bin that has a walking floor for easy unloading. The majority of the leaves are blown out of the bin back into the field but there is still a fair amount of hand sorting to be done when the load reaches the packing shed. The corn is then sorted into a water bath and onto a final conveyor belt where it undergoes it's final inspection under our watchful hands and eyes. It is then sent up to our Farm Stand for you to purchase as a Snyder Dozen!
Many thanks go out to to all those who've helped us through the years.  To Uncle Tom who was instrumental in designing and building our original pullers. And to those who came at all hours this season to help breathe life into Big Bertha…thanks so much Steve Shaw for your hydraulics expertise, Don Bakker for assisting us with your conveyor and welding knowledge, Tyler Snyder for making the cab a cool environment and Deboer Machining for building things we couldn't! And special thanks to our sons who worked tirelessly on this creation! Eddy and Thomas…we couldn't have done it without you! Also to Charlie who started it all with a solid foundation and a desire to own a machine that pulls corn like it's handpicked! Thank you for your never ending love and support and for all the years you've spent in every type of weather with Old Bertha! We also need to acknowledge our awesome God who has gifted those in our midst with these amazing abilities and talents and the energy to 'git 'er done'!
I hope you've enjoyed this journey down memory lane with us. We look very forward to picking your Snyder Dozens with Big Bertha for many years to come!